SS Powder Filter
Source:http://www.leerfilter.com/news/1138.html Time:2022-09-10 Hits:16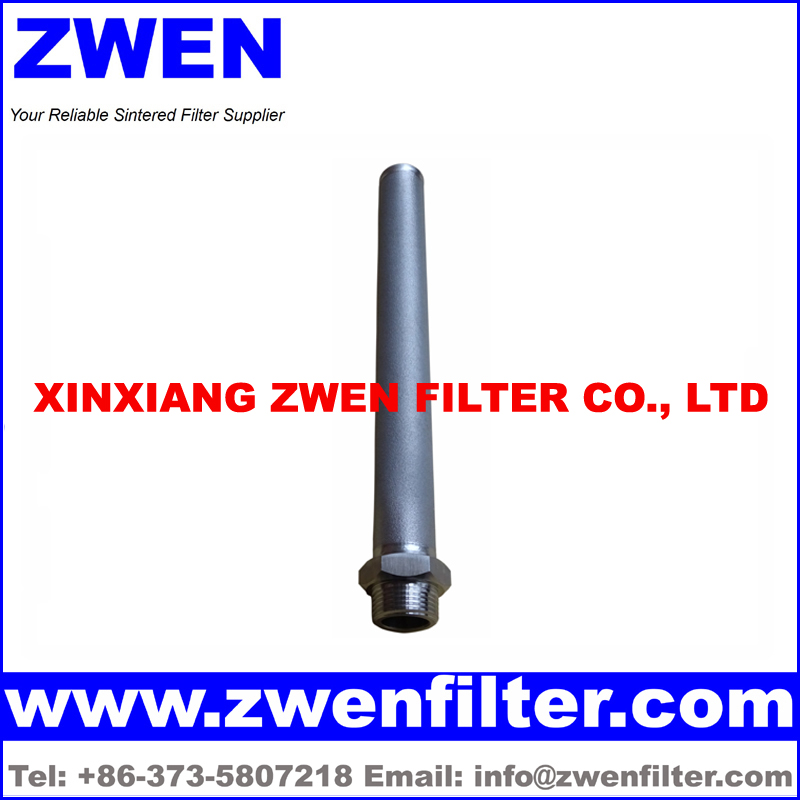 SS Powder Filter Technical Parameter
Raw Material: SS 316L
Filter Rating Range: 0.22 Micron ~ 100 Microns
Filter Efficiency: > 99.99 %
Operation Temperature: ≤ 816 ℃
Outside Diameter: 12 mm, 18 mm, 20 mm, 25 mm, 30 mm, 35 mm, 40 mm, 50 mm,
60 mm, 65 mm, 70 mm, 80 mm, 90 mm, 100 mm, 130 mm
Length: 10'' (254 mm), 20'' (508 mm), 30'' (762 mm), 40'' (1016 mm) or others
Gasket: PTFE, Viton, Silicone, Buna-n, EPDM
Connector/Fitting/Adaptor:
1. DOE
2. Code 2 (226+Flat End)
3. Code 3 (222+Flat End)
4. Code 7 (226+Fin End)
5. Code 8 (222+Fin End)
6. Thread (NPT,BSP,G,M,R)
7. Flange
8. Special customization
SS Powder Filter Feature
1. SS powder filter has high porosity
2. SS powder filter is good for backwash
3. SS powder filter has high mechanical strength
4. High filter efficiency
5. High dirt holding capacity
6. High temperature resistance
7. High corrosion resistance
8. Long service life
Application
1. Steam filtration (aseptic package, breweries, chemicals, dairies, electronics, food and beverage, pharmaceuticals, plastic)
2. High temperature gases filtration (highly aggressive gases, nitrogen, carbon dioxide, compressed air, tank ventilation)
3. High temperature liquid filtration (chemicals, cosmetics, paints, salt and seawater, syrups, coolants, food and beverage, pharmaceuticals, solvents, water)
4. Catalysts powders recovery
5. Precoat support filtration
ZWEN Quality Guarantee
1. We can provide raw material test report
2. We can provide filter efficiency test report
3. We will pay 2 times price for clients if SGS test report shows bad quality (we only accept SGS test report)
About Us
XINXIANG ZWEN FILTER CO.,LTD produces ss powder filter candle, ss powder filter cartridge, ss powder filter disc, ss powder filter disk, ss powder filter element, ss powder filter pipe, ss powder filter plate, ss powder filter rod, ss powder filter sheet, and ss powder filter tube.
XINXIANG ZWEN FILTER CO.,LTD has advanced sintering equipment, advanced welding equipment and a high level of skilled workers.
XINXIANG ZWEN FILTER CO.,LTD has passed ISO 9001:2008 quality management system and SGS audit test.
XINXIANG ZWEN FILTER CO.,LTD main markets are European market and North American market.
XINXIANG ZWEN FILTER CO.,LTD Key Clients: 3M, BOEING, GKN, MAHLE, Parker, SIEMENS.
Contact Us
XINXIANG ZWEN FILTER CO.,LTD
FACTORY ADDRESS: NO.425, XINHUI ROAD, MUYE DISTRICT, XINXIANG CITY, HENAN PROVINCE, CHINA
TEL: +86-373-5807218
EMAIL: info@zwenfilter.com
ENGLISH WEBSITE: www.zwenfilter.com
ENGLISH WEBSITE: www.leerfilter.com
CHINESE WEBSITE: www.zwenfilters.com